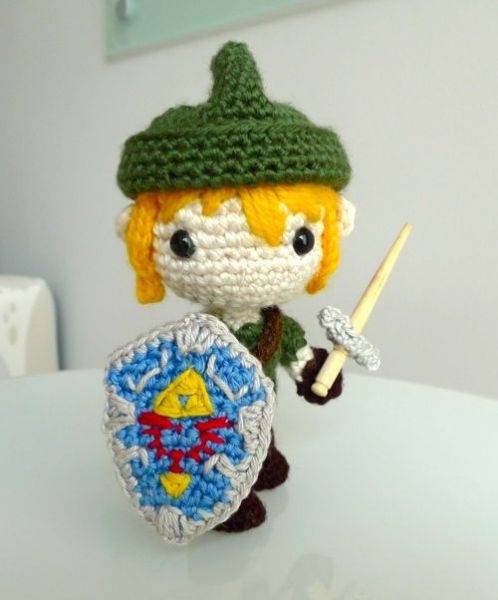 Masterchief van Halo
Ik kwam voorbij dit schattige gehaakt popje Link van het spel Zelda. Even wat verder ingedoken en zo kom ik langs het fenomeen Amigurimi (
Gurumi = afgeleid van "Kurumu"縫い包み)
Oh mijn god. Dat ik hier niet eerder langs ben gekomen. Super veel How-To filmpjes, patronen en inspiratiebronnen.
Amigurumi is dus de Japanse kunst van gebreide of gehaakte kleine miniatuur knuffeldiertjes en menselijke figuurtjes.

Amigurumi's zijn schattige (cute) diertjes (zoals beertjes, konijntjes, poesjes en hondjes) Ze kunnen gecombineerd worden met menselijke trekjes zoals benen en armen. Een Amigurumi kan worden gebreid of gehaakt. In de laatste jaren is de gehaakte Amigurumi populairder en vaker te zien.
Amigurumi's wordt over het algemeen gehaakt of gebreid van katoen. Het standaard design wordt gehaakt in spiraal-vorm. In tegenstelling tot het typische Westerse haken worden de rondjes niet (met een halve vaste) per rondje afgerond, er wordt doorgehaakt. Waarbij je het begin van elke ronde kunt markeren met een stichmarker.
Amigurumi's wordt gehaakt met een kleinere haaknaald in verhouding tot de dikte van het gebruikte katoen, dit om een zeer strak haakwerk te krijgen zonder gaatjes waaruit de vulling zou kunnen ontsnappen.
Nerdigurumi
waar te vinden?
Ben je into knuffels of knutselen dan is het zeker de moeite waard om hier even bij stil te staan. Ben je geen creabea, dan kun je altijd nog je oma of moeder er toe aansporen om jouw ideeen uit te gaan werken..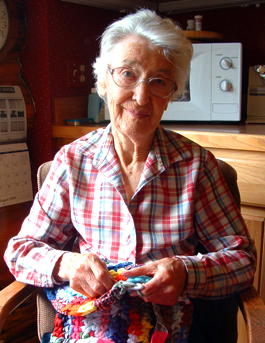 Maar ook Nederlandse
Christel Krukkert
(een stuk jonger) maakt mooie boekjes over hoe en wat..
en ze heeft nog meer boeken op
haar site
..
Amigurumi worden meestal gemaakt uit verschillende losse onderdelen die later aan elkaar worden genaaid. Uitgezonderd zijn de Amigurumi zonder ledematen (alleen hoofd en lijf) deze worden gemaakt uit 1 stuk. Soms worden grote gedeeltes gevuld met kleine styropor balletjes om het meer gewicht en stevigheid te geven. De rest wordt gevuld met synthetische vulling.
De algemene strekking voor Amigurumi is cuteness 'oftewel: een hoog schattigheids gehalte'. Als laatste typische kenmerk voor Amigurumi diertjes, ze hebben vaak een groot 'oversized' bolvormig hoofd, met een klein 'undersized' langwerpig cilindervormig lichaam met overdreven grote of kleine ledematen.
Spullen kopen, van wol tot haaknaalden en patronen:
echtstudio