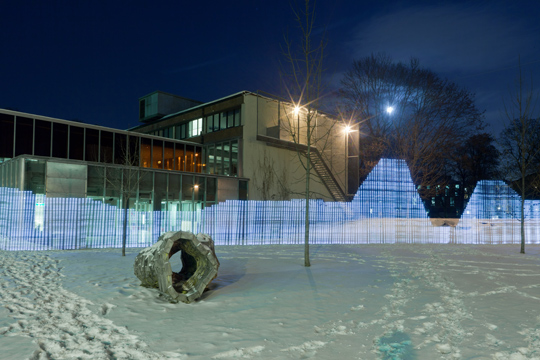 Hoe vaak heb je wel eens niet gewild dat je ogen meer konden zien dan alleen dat simpele kleurenspectrum. Stel je voor.. infrarood kijken, rontgen kijken, alle telefoongesprekken in die door je je hoofd gaan kunnen horen (liever niet, je zou in 1 klap horendol zijn geworden).
Alles goed en wel, over wifi-bereik vraagt iedereen zich wel eens af waarom het er soms niet is en soms weer wel. Moet ik twee meter naar links lopen of naar rechts om wel dat ene streepje in mijn wifi-logo'tje erbij te krijgen?
Deze studenten hadden er blijkbaar wel een avondje solderen voor over om erachter te komen hoe het wifi-landschap om zich heen er uit zou kunnen zien. Ze maakten een wifi-ontvanger en verbonden die aan een lange paal met ledjes die als ontvangst-meter zou fungeren. Door constant het bereik te meten tijdens het verplaatsen van de verlichtte paal en deze met een camera met lange sluitertijd op te nemen, kon je opeens over een afstand het bereik zichtbaar maken..
Nu even over 1 lijn. Wat mij betreft dus later ook in een driedimensionale oppervlakte.. En ja hoor: We hebben bergen in Nerderland.. Snowboarden of skieen zal er even niet van komen..
Immaterials: Light painting WiFi
from
Timo
on
Vimeo
.